"Today photos play an increasingly important role in our lives.
How can we design a new experience taking notes?"
NOTO is a note-taking app based on photos and audio notes. 
Unlike traditional text-based note-taking, NOTO not only helps people to record short audios on top of images, but also encourages note collaboration. 
It prompts potential categorization based on image recognition, and allows the user to convert audio to text when reviewing notes.
Process: 

Concept, Research, UX/UI Design, Interactive Prototype, Post Production
Tools Used: 

Sketch, Figma, After Effects, Premiere
Over the course of 4 weeks, I crafted NOTO, to help students to have a more efficient, smarter note-taking experience. 
Throughout the process, I actively engaged the target user population by conducting user interviews and 2 rounds of usability tests to understand their needs and to inform the design decisions.

I interviewed 5 design and art students who rely on notes heavily.

I noticed that photos take on new meanings in note-taking today:

a: photos encapsulate memories
b: photos are important in social scenarios
c: photo albums are inspiration pools for creatives
We need a solution that:
a: work closely with photos
b: allow text integration easily
c: as simple as possible
d: smartly helps with organization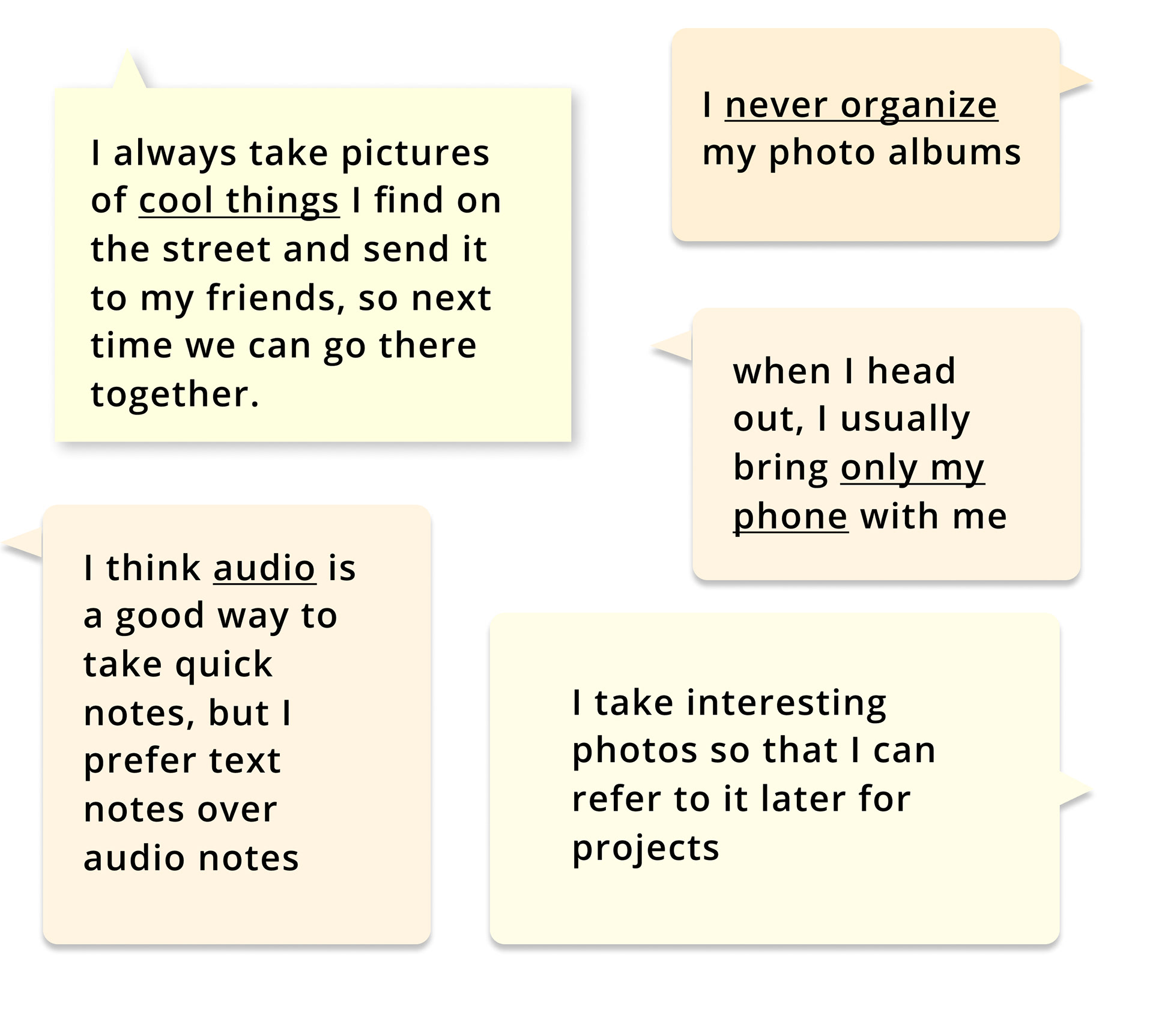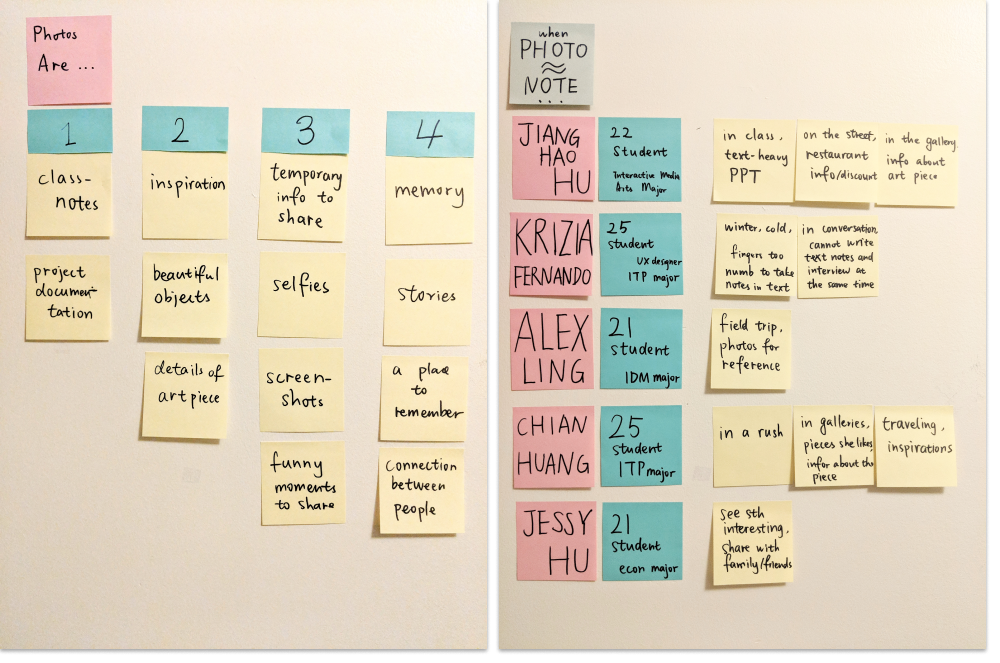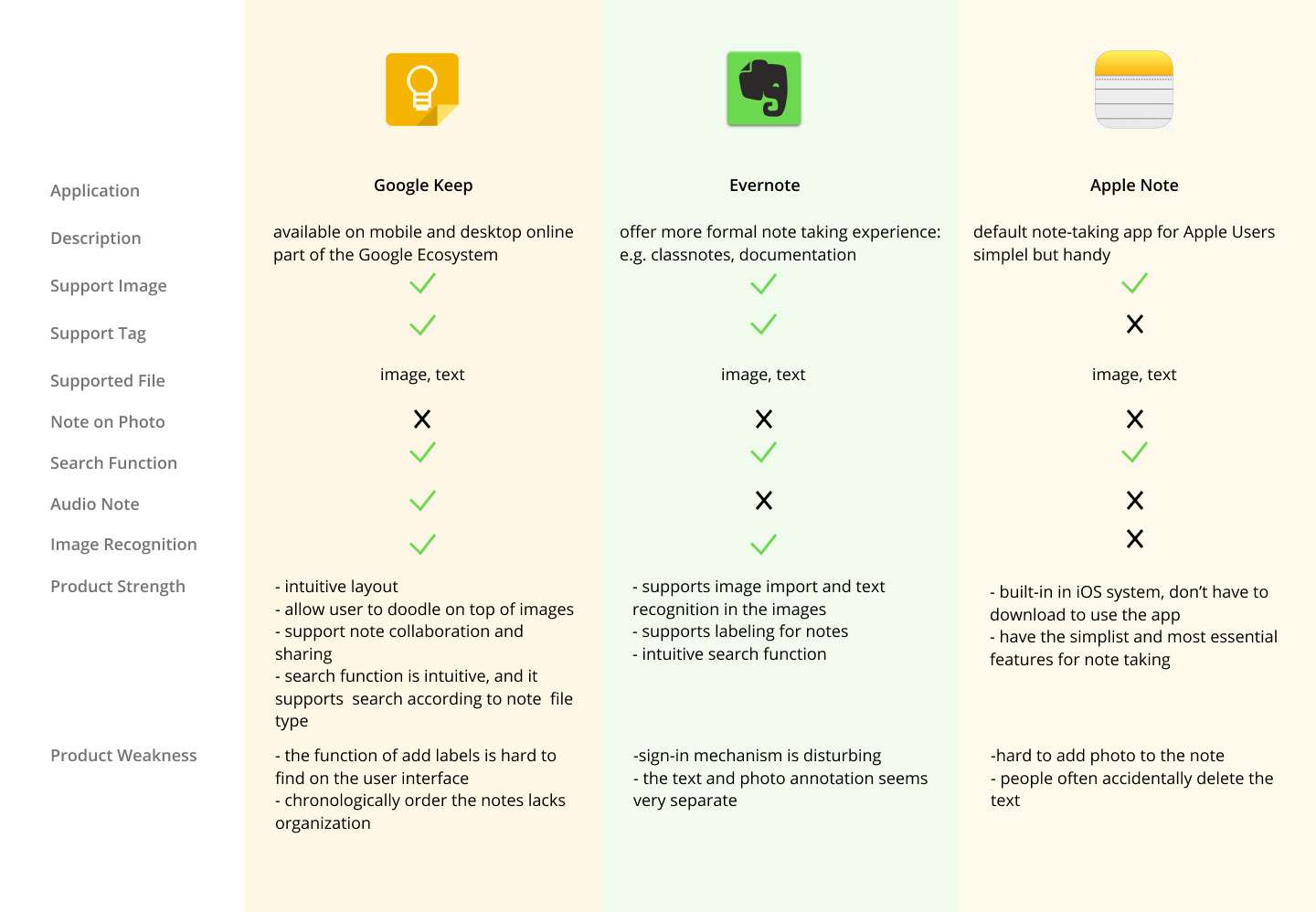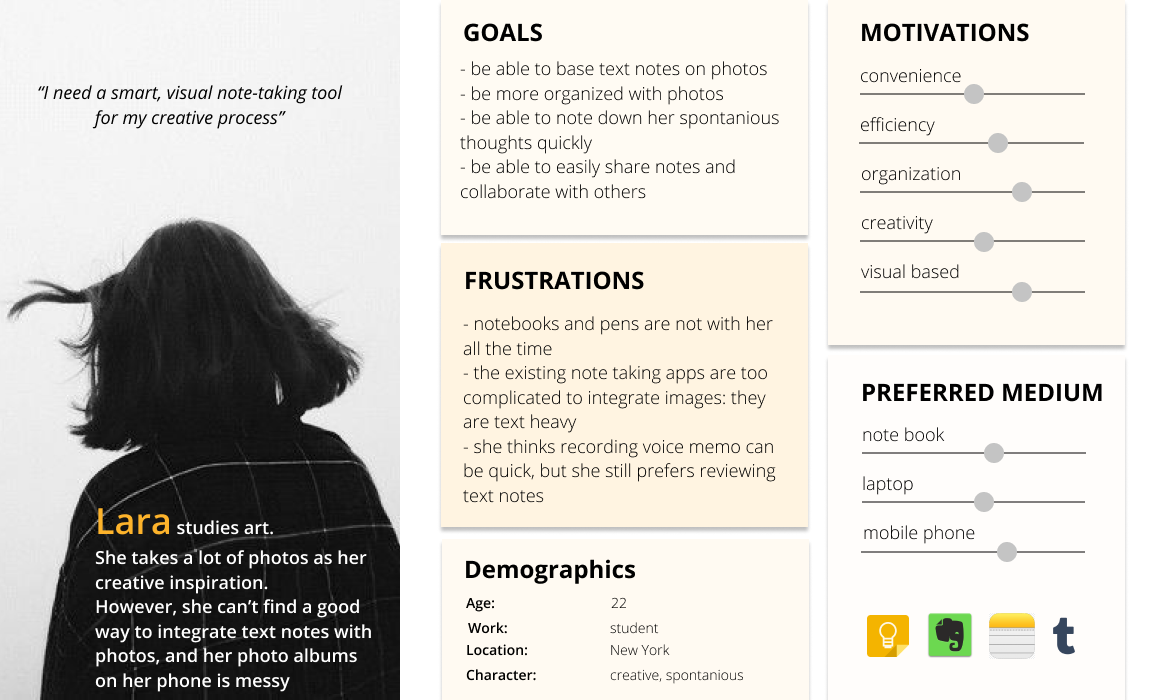 I assembled a workshop, asking users to assemble their own user flow.
I prepared screens with features within my user flow, and ones with extra features. During the workshop, users were asked to assemble the screen flows themselves. During the process, they were asked to
"Think out loud"
. By the end of the task, certain questions will be asked to further understand their decisions during the process.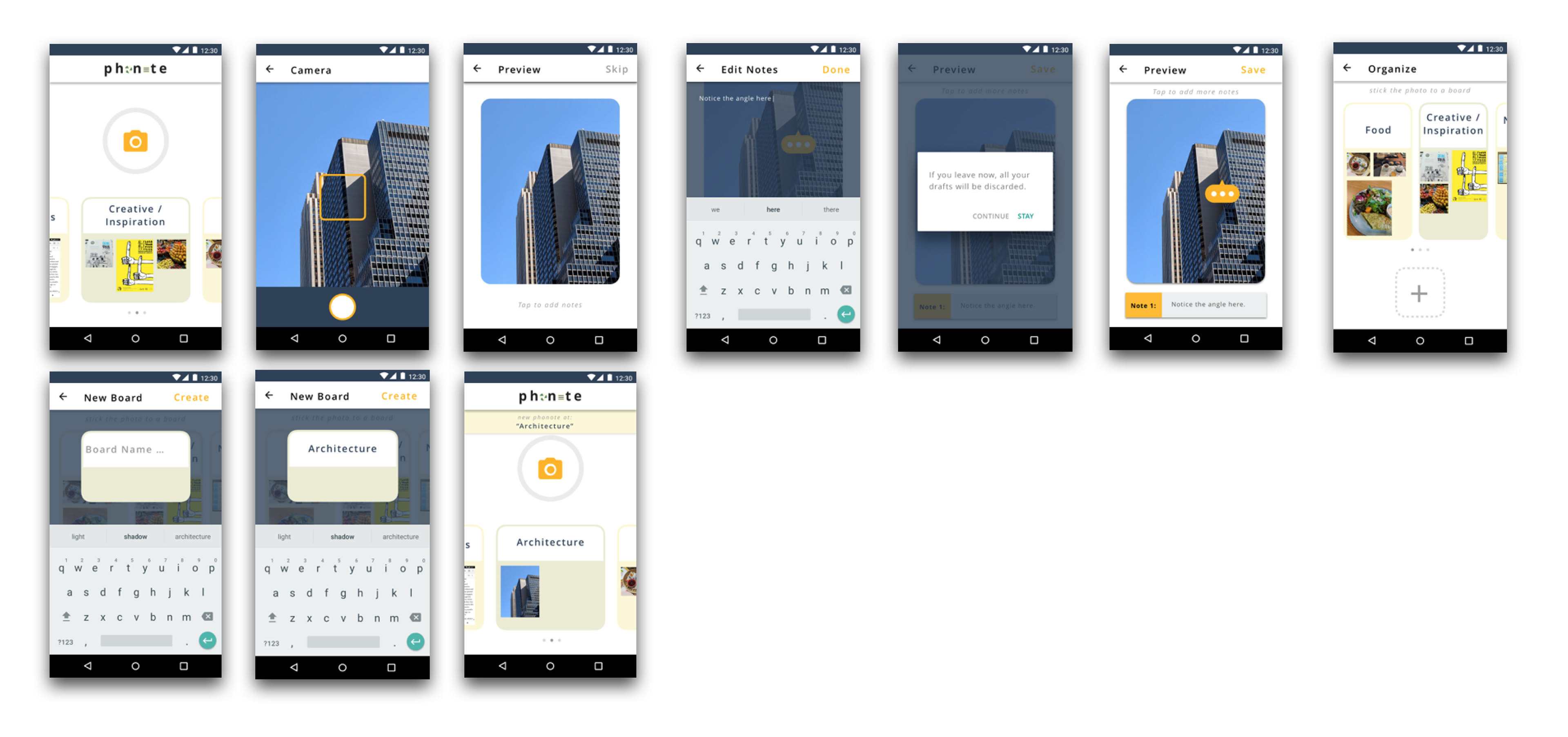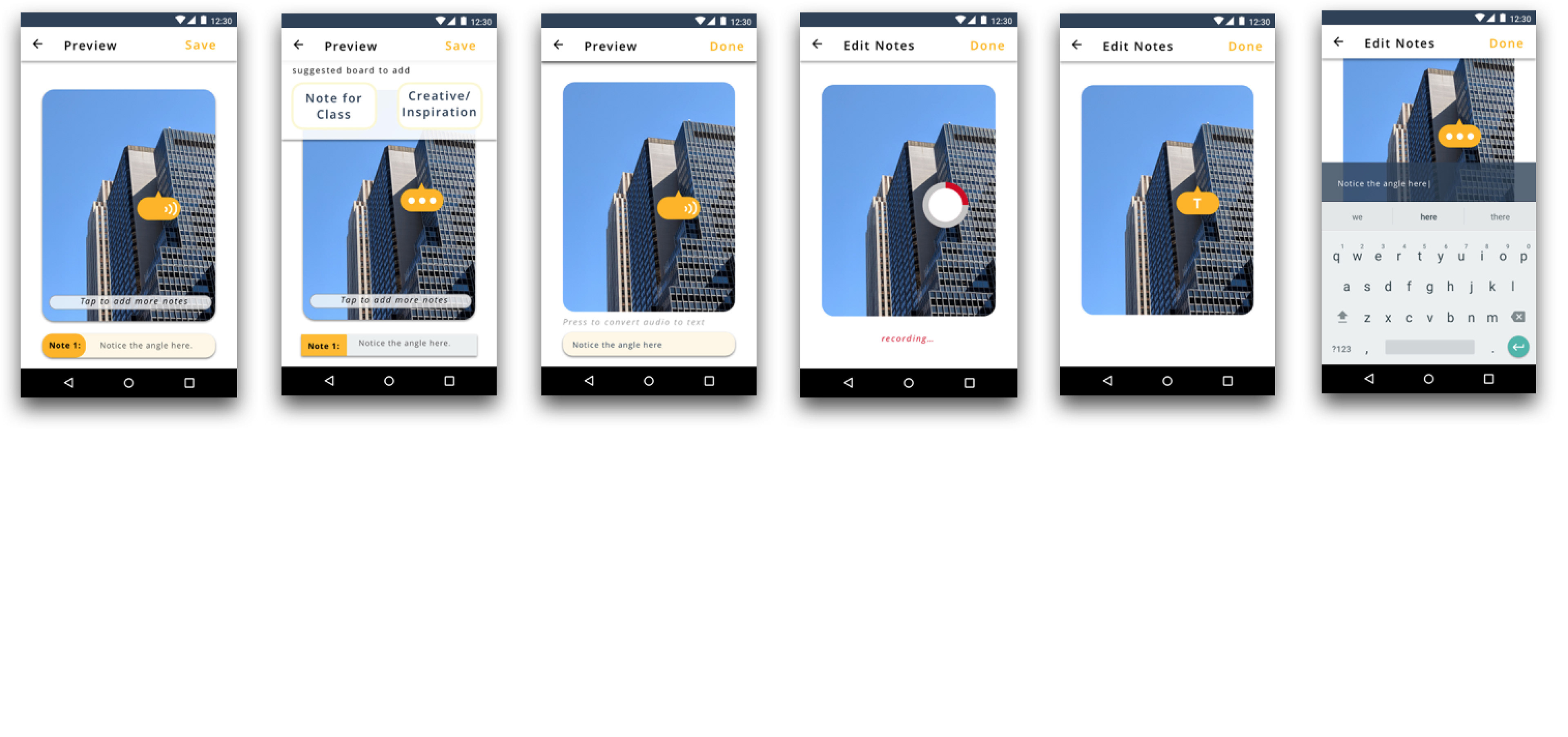 Scenario
Imagine you were in a hurry, and you saw an interesting building that inspires your architecture project.
Instruction
You have to use the existing screens to assemble the process where you would use this app to take notes.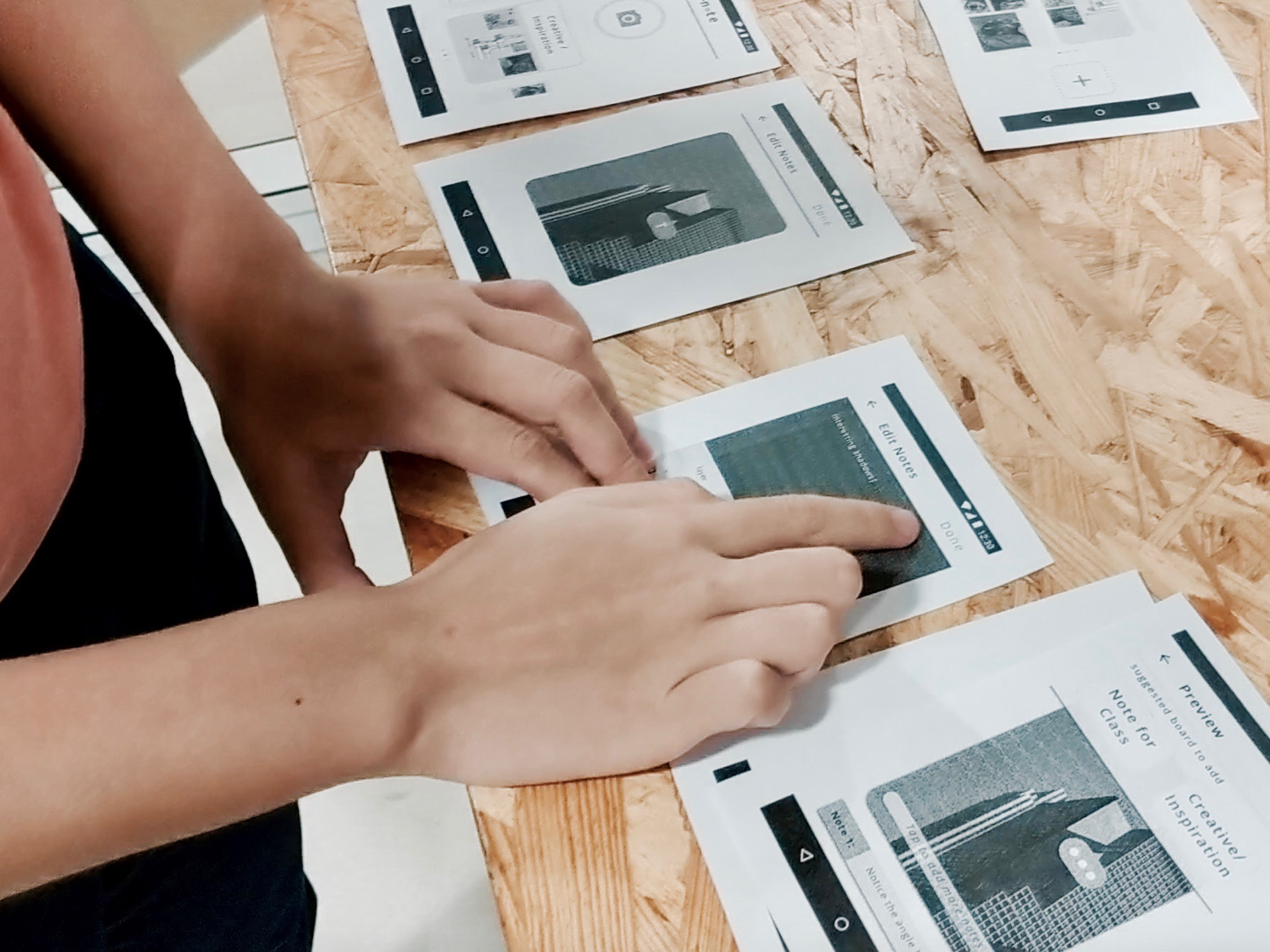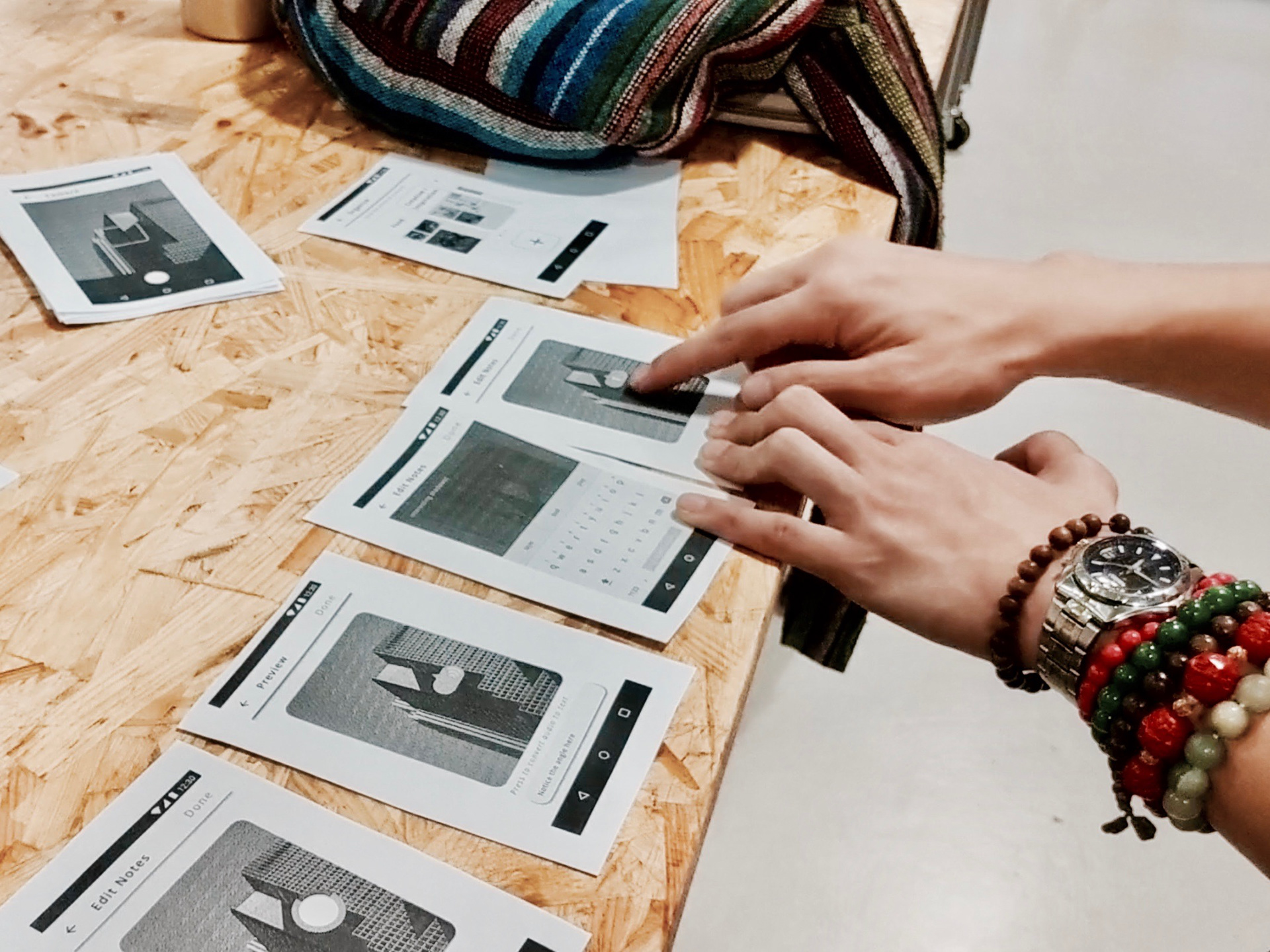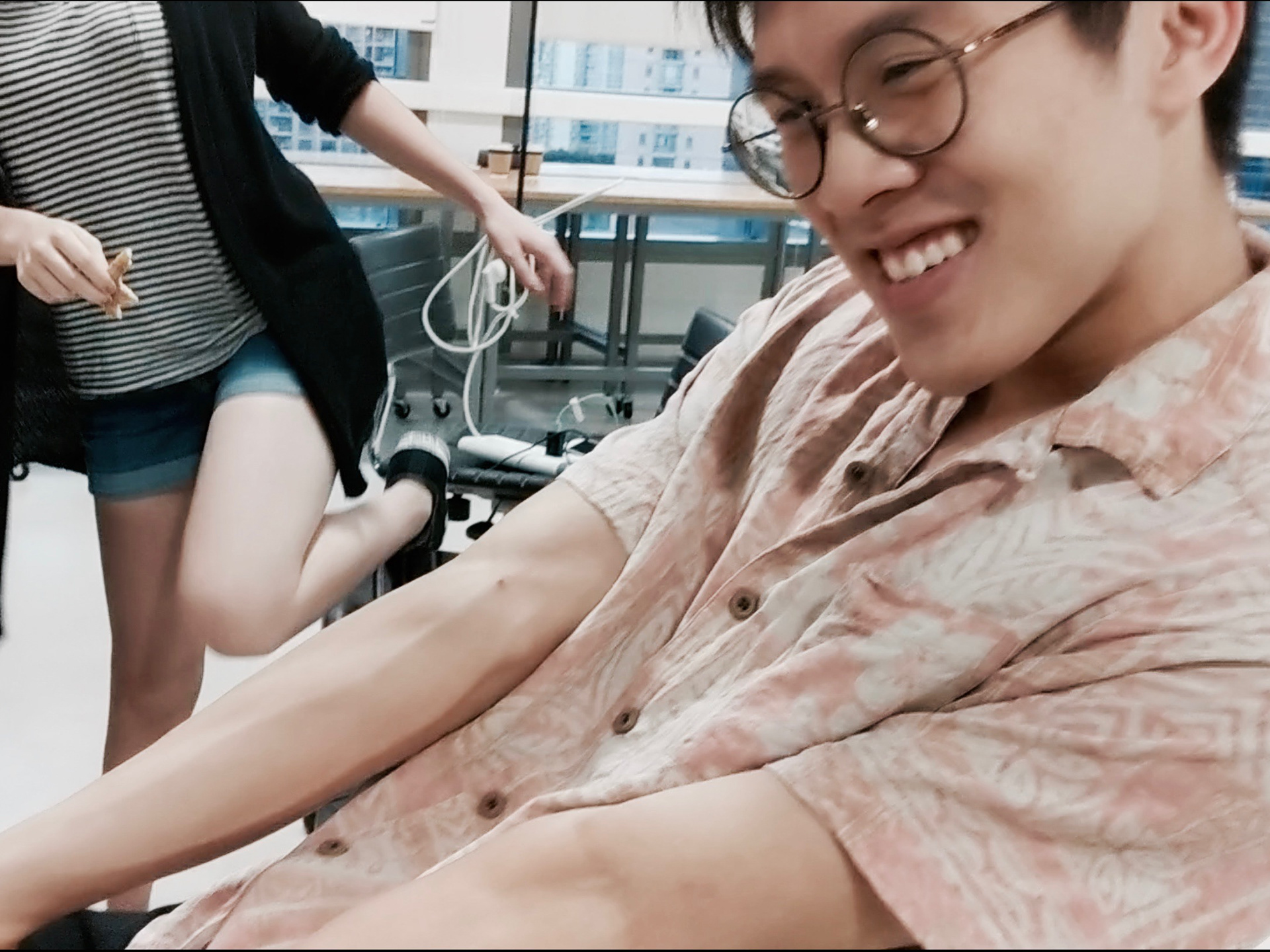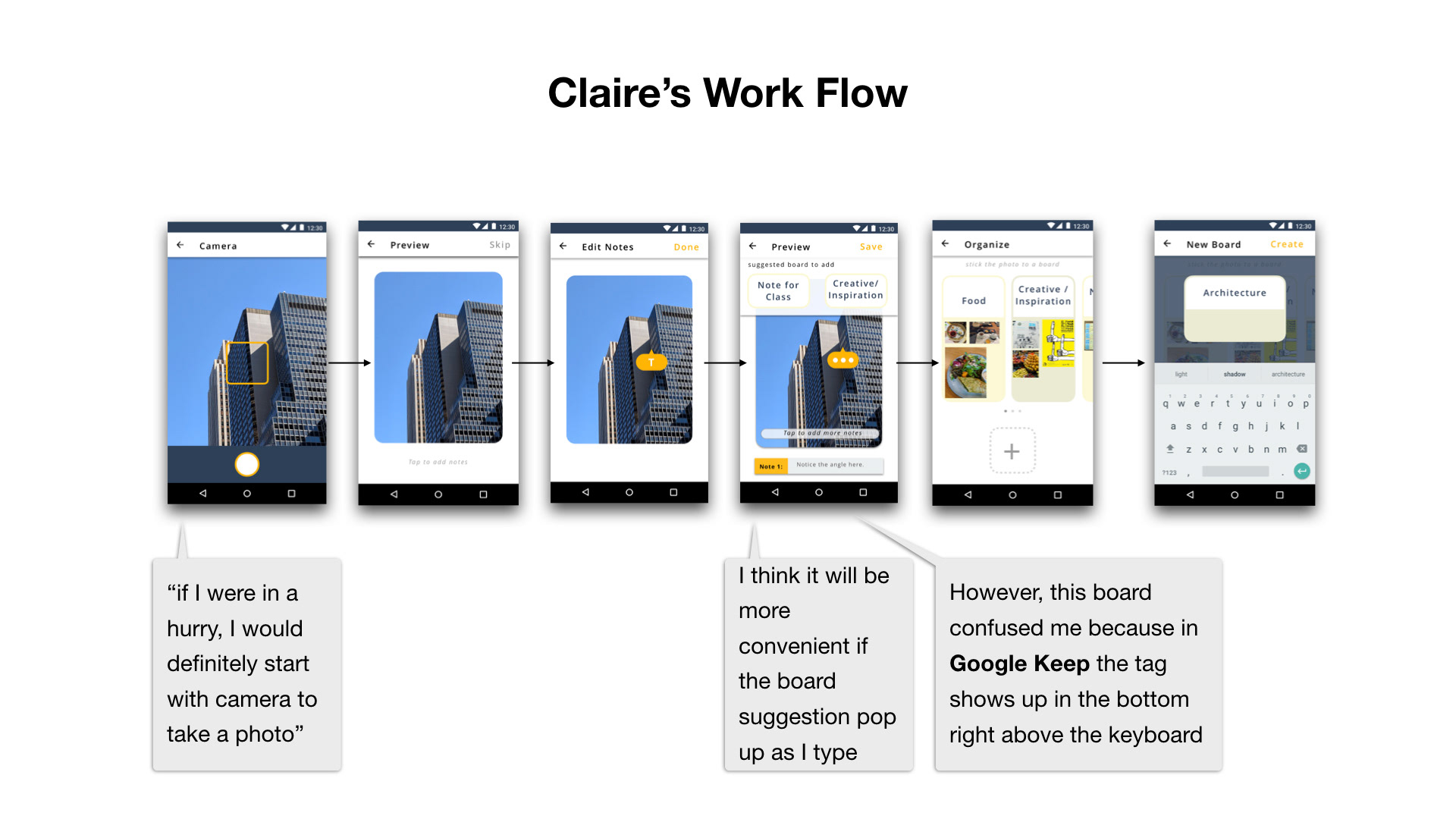 Major:
 Business and Finance
Note-taking Habit:
Always take notes for class. Currently using IPad for note-taking. Use Google Keep a lot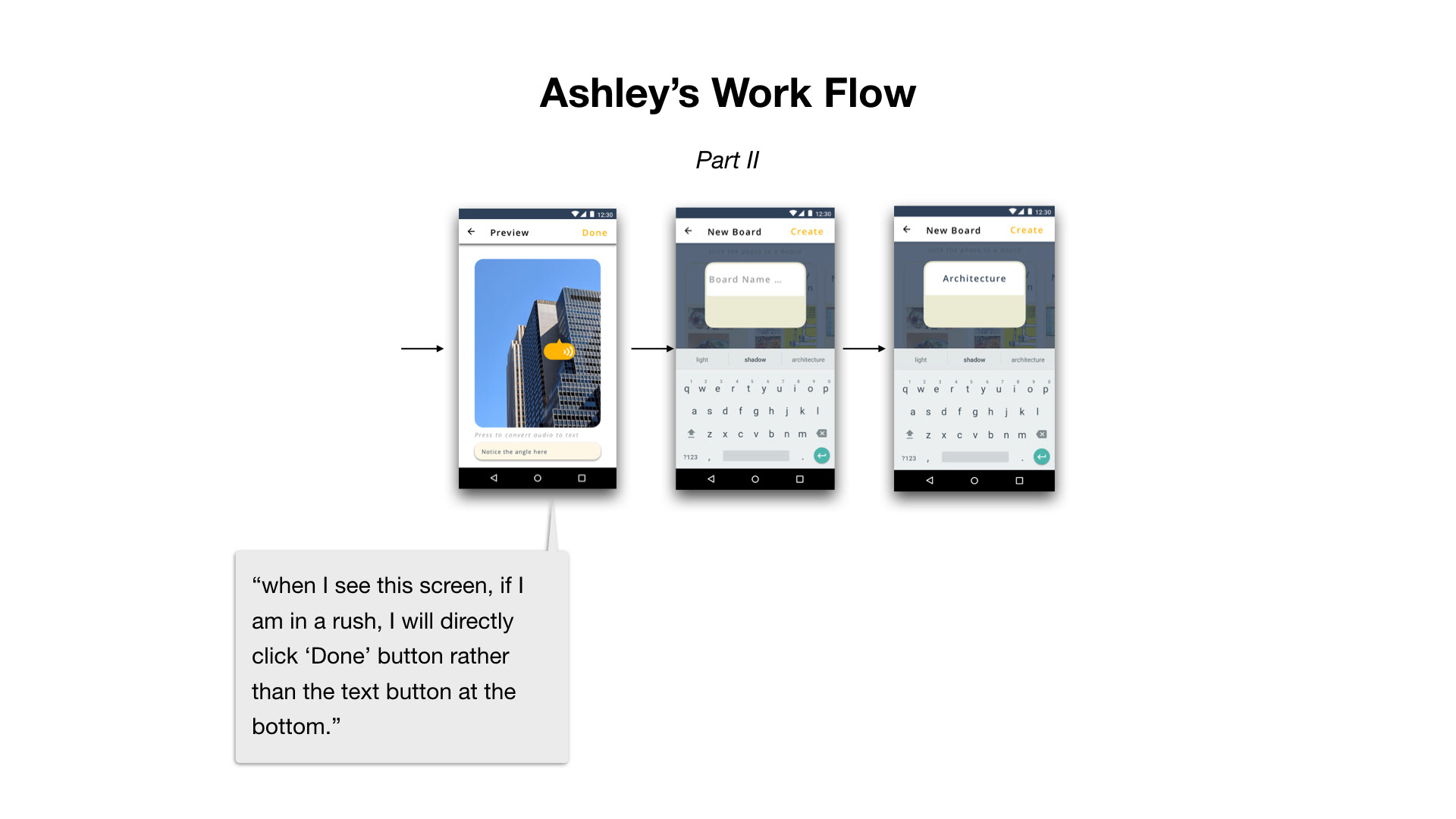 Major:
 Interactive Media Arts
Note-taking Habit:
Take notes a lot for school projects and memos.Use IPad for note-taking. Use notebooks a lot to scribble.Use Apple Notes on the phone to keep track of some notes digitally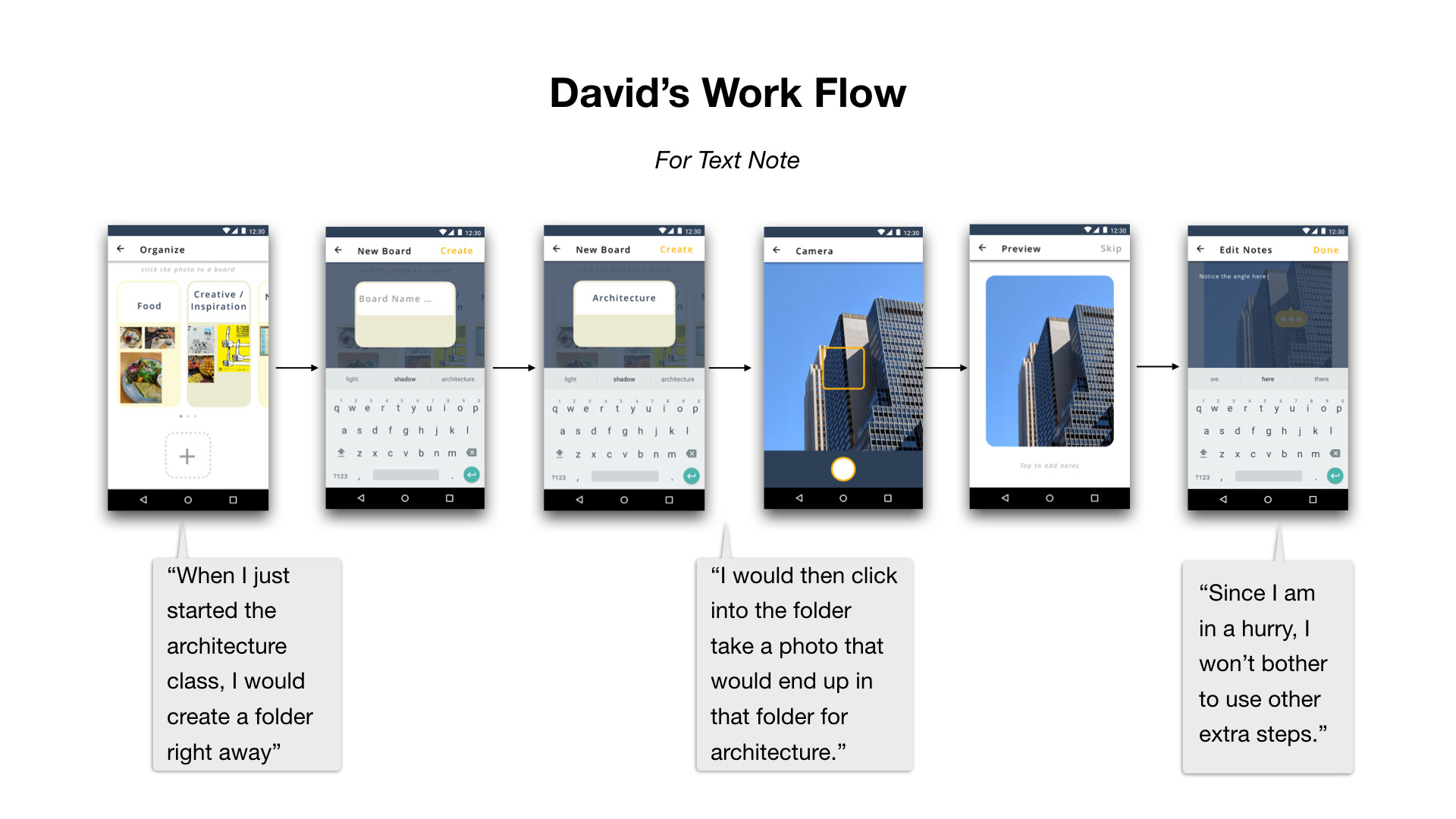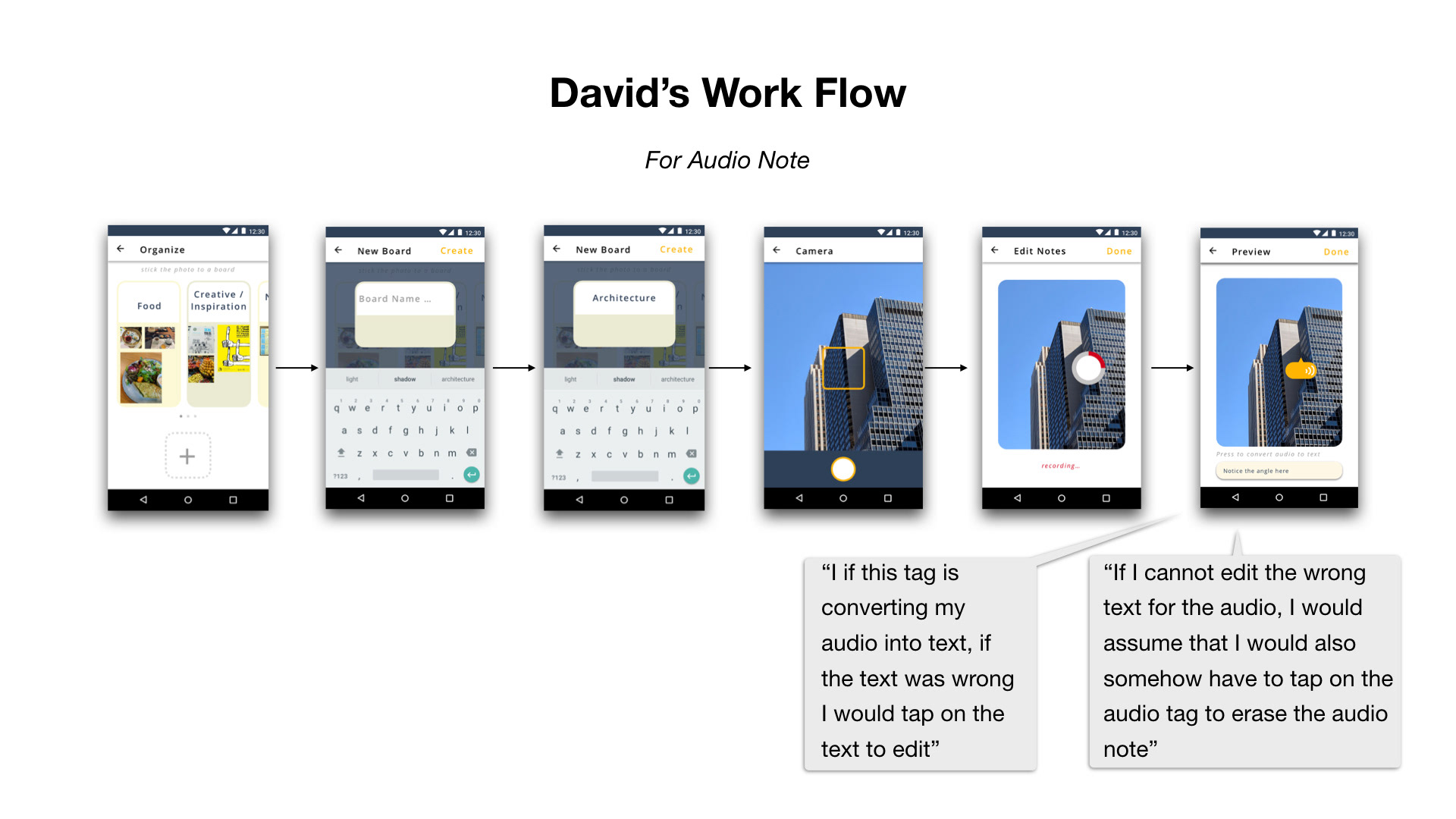 Major:
 Interactive Media Arts
Note-taking Habit:
Take notes with Google Keep only. Sometimes look at photos, but mostly look at them chronologically because photos keep a lot of memories
"How can AI help?"


​​​​​​​
+ Image Recognition
+ Speech Recognition
With the findings from the exploratory research, I started to push myself to think out of the box.

+ What if AI can recognize the photos we took, and suggest which board we should put our photos into?

+ What if AI can recognize our audio note, and convert it to text for us, so we can even take notes when we don't have to stare at the screen?

+ What if AI can help group photos of similar features in a collaborated board?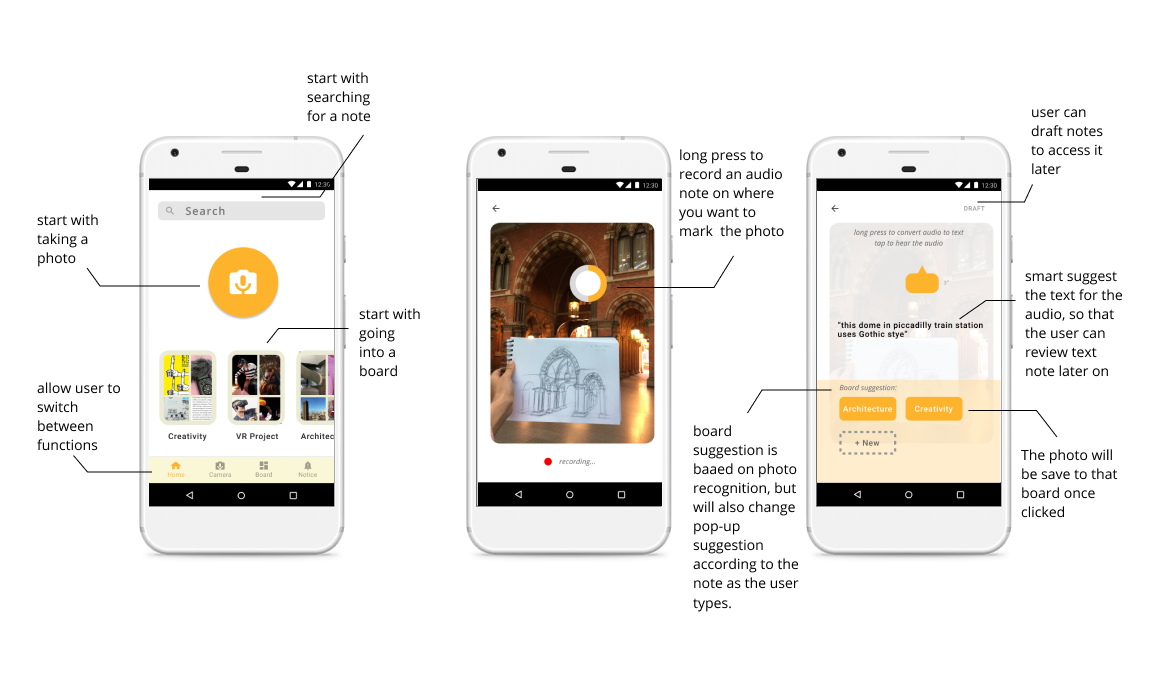 To further research whether social interaction within the app, such as direct messaging, should be incorporated for this experience.
More user testing should be conducted with students coming from a more diverse academic background.